Ask your children what they got for Christmas last year, the year before or the year before.  How much do they remember?  Ask them about a family vacation you took & listen as the memories take flight.
Limited-Time Offer:
 You can receive special 
Walt Disney World MagicBands
 in a holiday gift box when you purchase your 2018 package by Nov. 15, 2017*.
Booking Window:
 Oct. 10-Nov. 15, 2017
Travel Window:
 Jan. 1-Dec. 31, 2018
Minimum 3-night length of stay.
To ensure delivery of special gift box and 

MagicBands

 by Dec. 15, 2017, claim your reservation to your personal 

My Disney Experience

 account and verify your mailing address by Dec. 1, 2017.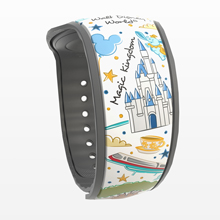 *This limited-time offer includes a special Walt Disney World MagicBand and gift box. To receive these items in home by Dec. 15, please create or sign into your My Disney Experience account at: StartYourDisneyExperience.com, link your Resort package reservation, verify your address and personalize the MagicBands no later than Dec. 1, 2017.
My name is Melissa and I am a Disney fanatic; I'm also a travel agent.  You will find me on most weekends, with my family in a Disney park exploring everything that Disney has to offer so I can help you plan your own magical vacation.
If you would like to reserve this offer and have these special MagicBands under your tree for Christmas, contact me today!  Rooms are limited!
Melissa Mathies – Pixie Dust Adventures
www.PixieDustAdventures.com
Melissa@PixieDustAdventures.com